thank you for attending our event!
2017 California Champions of Mental Health Charity Awards Dinner and Jazz Concert featuring international smooth jazz superstar eric darius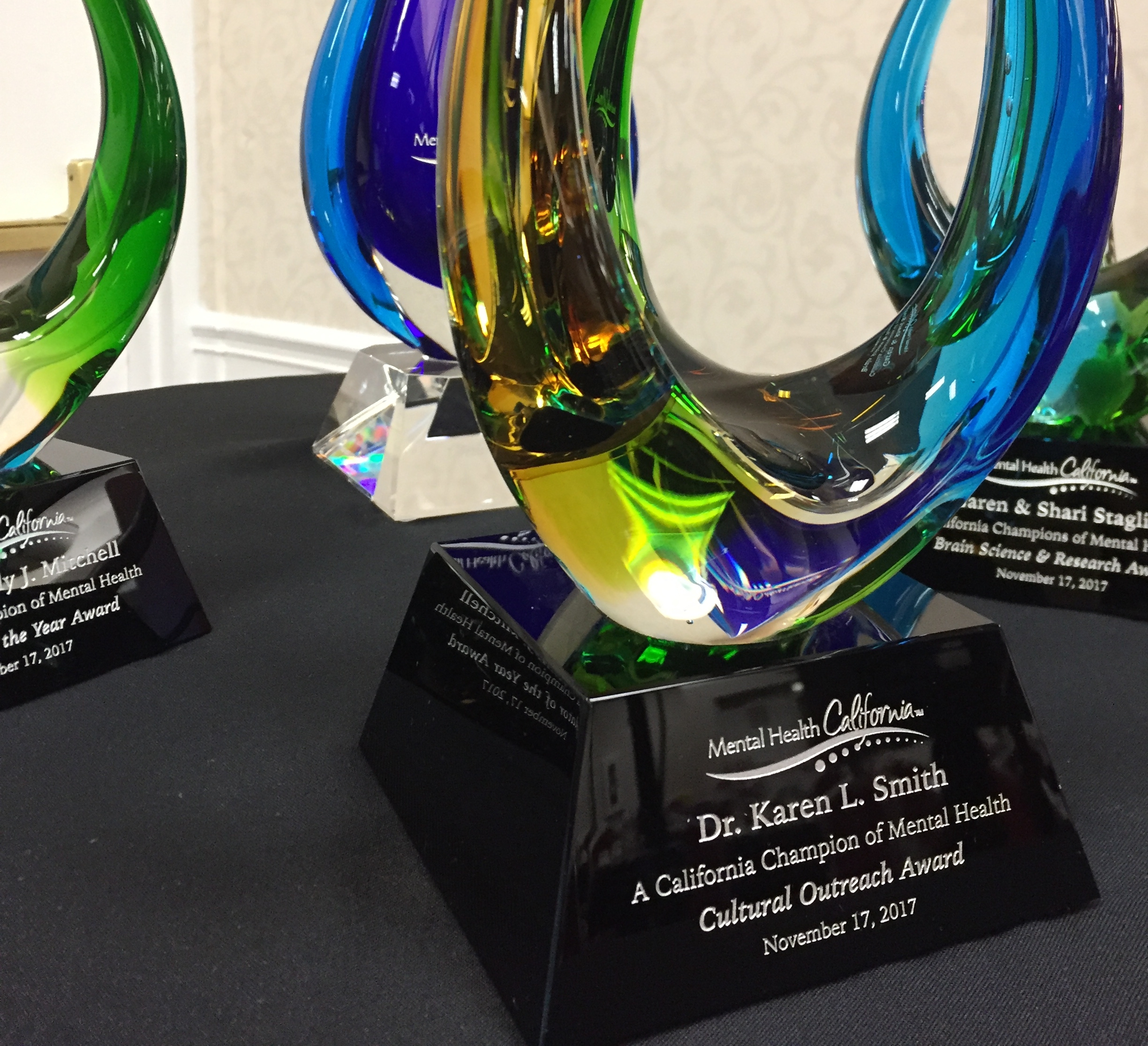 Thank you to our sponsors and supporters! #2017MHCAwardsDinner
To celebrate the achievements of California's mental health leadership, we invited the community to participate in an elegant evening of recognition of accomplishments in mental health and wellness in the Golden State. We presented a richly layered, highly successful inaugural event to showcase our mental health education and training services to the community. The evening was co-hosted by Mr. Leon Guidry, the voice of the "Smooth Vibe" on Sacramento's KDEE 97.5 FM. With over 250 in attendance, the audience was treated to excellent entertainment along with a variety of speakers across the mental health and wellness landscape, yet with a singular focus: education, awareness, and hope.
Award recipients had demonstrated success in helping to resolve complex community mental health concerns through advocacy, research, public policy, outreach, clinical work, or direct services. Rusty Selix, the co-Author of Proposition 63, the California Mental Health Services Act (MHSA), received a "Lifetime Achievement Award" for his public policy leadership and decades of dedication to California's mental health movement. Additional awardees included the One Mind Institute for "Brain Science & Research", Senator Holly J. Mitchell for "Legislator of the Year" for her dedication to California's health and wellness, and Dr. Karen L. Smith, State Public Health Officer and Director of the California Department of Public Health for her excellence in "Cultural Outreach" for the department's California Reducing Disparities Project under the leadership of the Office of Health Equity.
The event highlighted these achievements through award and video presentations. Guest speakers, including Sacramento County Supervisor Don Nottoli, Senator Richard Pan, Dr. John Boyd, CEO for System Mental Health for Sutter Health, and Daniel Hahn, Chief of Police, City of Sacramento, shared their appreciation for this work. An hour-long jazz networking reception preceded the dinner event. We also presented a silent auction, additional guest speakers, and excellent entertainment. The evening was capped-off with a dynamic performance by saxophonist, composer, producer, and vocalist Eric Darius, an international smooth jazz superstar whose current single, "Breakin' Thru", has officially reached #1 on the Mediabase Smooth Jazz Chart.
We thank our generous sponsors and all those who supported our inaugural charity awards dinner. Special appreciation goes to our dedicated Board of Directors and our many event planning volunteers for their amazing assistance to make this event successful. Thank you for creating a dynamic opportunity for sharing of a common cause to which we are all connected. We also extend gratitude to the Sacramento Observer Newspaper and Sacramento Magazine for their excellent coverage of our mental health awards dinner!
Thank you for everything Kristene, we had a blast! Congrats on an amazing event! - Eric Darius, Nielsen's # 1 R&R/Billboard Contemporary Jazz Artist
Thank you @MentalHealthCA for your recognition! & Thank you for building a movement of community forces to educate & inspire Californians to address mental health issues #EachMindMatters #SanaMente - Senator Holly J. Mitchell, Honoree
Thank you, Kristene, so very much for the unexpected honor of the award from Mental Health California and for the opportunity to attend the tremendous event last Friday. That was by far the most fun award ceremony I've ever attended! Most importantly, thank you for your service to the people of California! I came away from the event incredibly impressed with Mental Health California. Thank you for bringing this organization to life and for your tireless leadership. - Dr. Karen L. Smith, State Public Health Officer & Director, California Department of Public Health, Honoree
The Mental Health California Awards Dinner was full of inspirational words from you and so many health, community, and political leaders. I love the progressing discussion and scientific strides around this topic. Thanks for an amazing evening! - Debbie Emm
Thanks so much Kristene for all you do and for the prestigious award MHC presented to us this week. It was a terrific event! - Shari Staglin, Co-Founder, One Mind, Honoree w/ Garen Staglin
Kristene, you organized, executed and were the face and voice of a "perfect" evening; and a fulfilling experience! It was inspiring and entertaining. Mental Health California got a spectacular (and entertaining) debut. Very proud to have been a part of it. Congratulations! - Mel Assagai, Director of Government Affairs, Strategic Counsel
Thank you so much for honoring me at this very special event for Mental Health California. I'm very impressed by Kristene Smith and her ideas to build this new organization that looks like it will address a number of very important issues that no other organization is able to focus on effectively. I hope that I can be helpful to you all in the launch of your new organization. – Rusty Selix, Co-Author, Proposition 63, Honoree
Wonderful evening! We had a great time and came away more educated about "brain health". Thank you! - Derrell and Tina Roberts, Executive Directors, Roberts Family Development Center
What a wonderful event you had last night! I'm still energized from seeing the excellent turnout and inspired by the awardees and the public you convened. You did a fantastic job! The quality work you do is much needed and I am honored, humbled, and grateful for the opportunity to participate. – Dr Sergio Aguilar-Gaxiola, Founding Director, UC Davis Center for Reducing Health Disparities
You did a fantastic job. The event was wonderful and the amazing speakers reminded me that we still have so much work to do to improve mental health services. - Patrick Ma, Event Speaker
I‎t was such a beautiful event and awesome evening. Thank you so much Kristene for your vision!! - Terri Speed, DDS